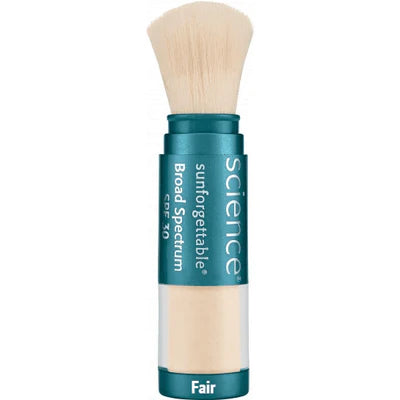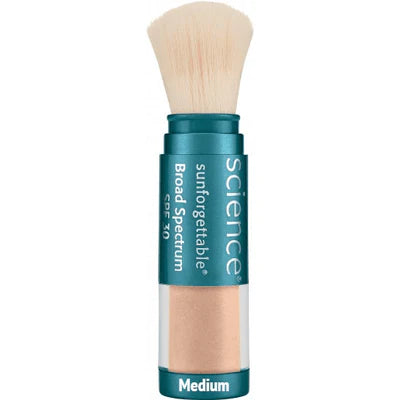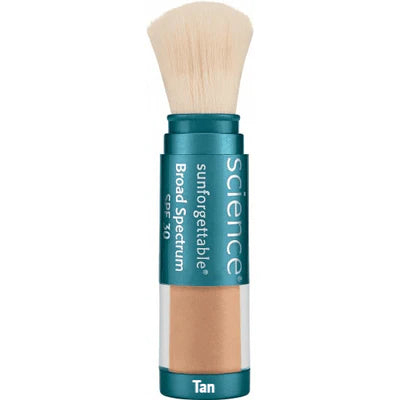 Sunforgettable Total Protection Brush-on Shield SPF 30
SKU:

N/A

Category:

Product type:

Brush SPF
Description
Powered by EnviroScreen® Technology, this all-powerful, all-mineral skin shield provides complete protection in one convenient, on-the-go application—alone or over makeup.
Provides environmental protection against UVA/UVB, pollution, blue light, and infrared radiation
+ Lightweight, invisible coverage in a universal shade
+ Hydrating and antioxidant-rich formula
+ Oil-free, hypoallergenic
+ 100% chemical-free active ingredient
+ Broad Spectrum SPF 30/PA+++
+ Water/sweat resistant (40 minutes)
+ Dermatologist recommended
+ Works on all skin types and tones
How to use
Before each use, tap the brush with cap side down a few times, then flick the bristles with your finger to see the powder is flowing. Use small circular motions to sweep the brush onto dry bare skin, moisturized skin, or over makeup. Apply generously on face for at least 60 seconds while making multiple passes. Don't forget about your ears, neck and other areas! Reload more powder into bristles by giving the brush a good shake with bristles facing downwards, or recap, tap, and flick as necessary during application.Reapply at least every two hours.