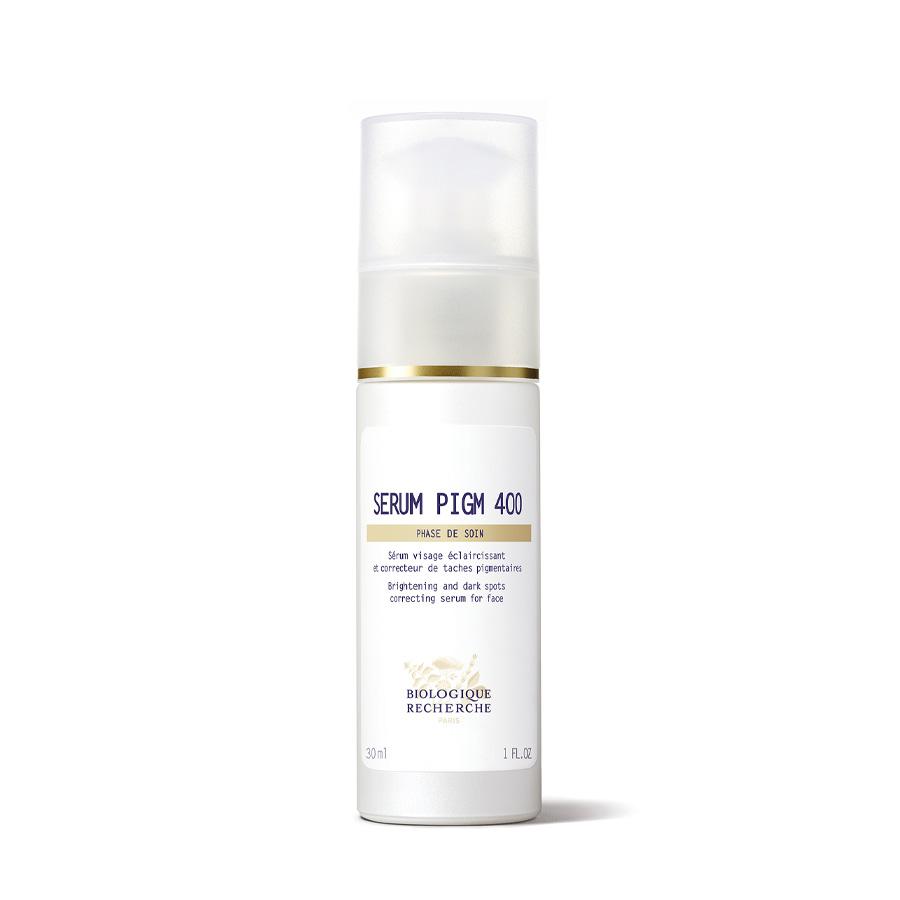 Serum PIGM 400
SKU:

N/A

Category:

Product type:

Serum
Description


A brightening, spot-correcting serum that illuminates the complexion and fights free radicals. Helps to prevent and reduce the appearance of existing dark spots.
Recommended for discolored and dull Skin Instants.
This face care acts on 4 stages of the melanogenesis and melanosome regulation (controls size, number, maturation and migration). An effective treatment that is gentle on the epidermis.  A formula boosted with brightening active ingredients, twice as concentrated as the cream, and an enhanced efficiency in inhibiting melanin synthesis.  Using a combination of Crème PIGM 400 and Sérum PIGM 400 visibly brightens dark spots and gives a better 
Ingredients
Whitening and brightening active ingredients: Watercress Sprout Extract and Soy-based Pure Genistein, Chromanyl Palmitate-based Synthetic Peptide, Plum Pulp extract, Biomimetic Peptide, Sea Lily Extract, Sea Fern Extract.
Protective active ingredients: Anti-ROS and anti-RNS Antioxidant, Wasabi Extract.
How to use
Either to the entire face to illuminate the complexion, or topically to the skin spots (face, forearms, chest and hands). Delicately massage the areas with your hands so that the product penetrates. Protect the skin from the sun while using the product.
Action
Prevents and reduces the appearance of existing dark spots.
Prevents / limits new spots apparition.
Unifies, reduces irregularities and illuminates the complexion.
Antioxidant action: helps fighting cell ageing.